We offer extensive support of both Mac and PC platforms, which is unique to the computer support services industry.  We have the experience and knowledge to quickly and accurately diagnose and repair any hardware or software problem that you may have.  We perform a variety of repairs, both in our store and at your location, that will save you a great deal of time and money. We specialize in repairs that are rarely offered by most other service providers such as: liquid spills, component-level repairs, and severe physical damage. We have a team of trained experts ready to inspect, assess, and recommend the best solution for you.

Repair/Upgrade Services
As part of the CompuTech repair discovery service, we will work with you, in-person or over the phone to assess your situation.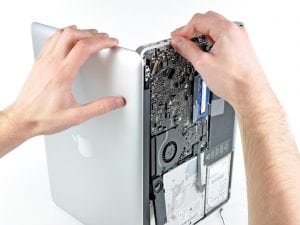 Previous Generation Apple Parts: We carry many of the parts for previous generation computers such as Batteries, AC adapters, RAM, Hard Drives, and Optical Drives
Carry-In, On-Site, Remote Support, and Rush Repair Services are available
Messenger Pickup & Delivery available
Office Hours are 9 a.m. – 7 p.m., Monday through Friday
After Hours & Sunday service is available by appointment
Repair Rentals: Computer rentals are available while your computer is being repaired. In many cases, we can even perform a hard drive swap or data transfer to your rental which allows you to have all your data and programs available to you while your computer is being repaired.
Support for PC Platform & Virtualization:  We have extensive experience in supporting Boot Camp, Parallels, and VMware solutions. We offer support for Multi-Platform environments, as well as PC-to-Mac data transfer and integration
Component Level Repairs: This is how we address liquid spills and isolated component failure. This is a great alternative in cases where replacing expensive parts can sometimes cost more than the computer is worth.  Repairing the part at a reduced cost may be a more viable option
Screen Replacements: The cost of replacing a screen is often close to the value of your computer.  We offer low-cost screen replacements for most computers!
Case Replacements: Case and button replacements are available for functionality and/or aesthetics

Before You Come in For Repair

Make notes about the problem(s) you are experiencing. To best facilitate our ability to service your issue as quickly as possible, try to note the problem along with the time it occurred, what you were doing on the computer, and exactly what happened (i.e. error messages, odd sounds, shut-down, etc.)
Backup your computer (if you can). If you are unable to backup your computer, CompuTech Support Services can usually do so, for an additional charge. Failures and repairs don't always affect the hard drive or your data, but a backup is essential, and always recommended for those who want to prevent data loss.
Change your password (optional). If your computer's password is confidential, change it (if you are able). We will need to know your administrative password for many repairs, so you may want to temporarily change it.


Coming into CompuTech Support Services for Repair

No Appointment Required: When planning a visit to CompuTech Support Services please review our store hours, and try to come in at least 30 minutes before we close so we have plenty of time to review your needs.
Don't bring your power adapter unless you're having problems with charging or powering your computer. Please note: If you are bringing in an Apple display or a Mac mini you should ALWAYS bring the power adapter with you.
Don't bring your keyboard and mouse unless the problem you are experiencing is related to the mouse or keyboard.
Ask about upgrades. If you have been thinking about adding more memory (RAM) or a larger hard drive to your computer, we can often complete upgrades – without any delays – during the repair process.
Ask about renting a computer during your repair. We know it's challenging to be without your computer, which why we offer flat-rate rentals for the duration of your repair.  In many cases we can even transfer your data or swap your hard drive to the computer you are renting so you have access to all your data and programs while your computer is being repaired.

After Your Repair is Completed at CompuTech Support Services

Your technician will call you as soon as the repair is completed. Your service receipt shows the phone number you gave us to use when the repair is completed.
Remember to bring your service receipt! Your service receipt is required to pick-up your completed repair.  However, if you forget it we can also accept a valid Photo I.D.
Pick-up your repair. All repairs must be picked up within 30 days of repair completion.  If you have a rental in conjunction with the repair, it must be returned within 3 days of your repair's completion.
Verify your issue was resolved. If you have additional questions please call our service line at (310) 237-6065 or email info@computechsos.com
Continue or start backing up your data. A repair is a good reminder that computers can, and do fail at times – usually when you least expect it. Take this opportunity to start backing up your data on a regular basis. If you are uncertain as to how to do a backup, ask about our backup solutions and we can help get you started.