Your data is the most valuable aspect of your technology. Hardware can be fixed or replaced at any time, but the time, money, and effort spent creating your data can't be easily replaced. In some cases it can be impossible to recreate – particularly when it comes to losing priceless photos or video!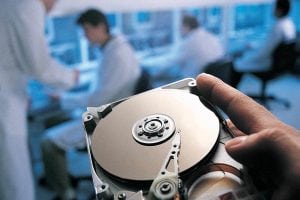 In the unfortunate event that you do have a Hard Drive crash and experience data loss, CompuTech is here to help you recover your data, and then protect it with an automated backup solution tailored to meet your needs.
Our skilled Technicians have both the knowledge and experience to recover a wide range of failed Hard Drives, Solid State Media, and RAID arrays.
If you suspect your computer's Hard Drive is failing, carefully follow the steps below to help maximize the chances of a successful Data Recovery:
Do not run any utilities on your drive – doing so can further damage the drive.
Turn off your computer or external drive and do not use it.  Even light use can increase the risk to the Hard Drive and decrease the chances of a full recovery.
Bring your computer or Hard Drive to CompuTech!
If CompuTech is unable to recover your data using our cost-effective, non-invasive recovery techniques, we will refer you to DriveSavers, our partner for Clean Room Data Recovery.
The costs for clean room data recoveries like those of DriveSavers, tend to be significantly more expensive than our in-store recoveries. However, it is the best alternative in cases where we cannot recover the data, and the need for recovery is so crucial that the additional clean room recovery costs can be justified.
Our partnership with DriveSavers qualifies you for a discount on their clean room data recovery.  They will also waive their $200 attempt fee because CompuTech does the preliminary diagnosis on your drive.  In addition, we will facilitate the entire recovery with DriveSavers on your behalf, and at no additional cost!
DriveSavers is the worldwide leader in data recovery services.  The company is among the fastest, most secure, and most reliable data recovery services available. They employ over 75 professionals and support over 8,000 business partners.
They service more dropped, damaged, corrupted, and traumatized drives in one day than most data recovery providers service in one month. As a result, their engineers can successfully recover data from all storage devices and operating systems – from legacy to state-of-the-art. They are also endorsed and recommended by leading computer and storage device manufacturers; their recovery work will never void the original warranty.